by Rex on May 28, 2009 | 2 Comments
1.  It begins Saturday. Red Wings. Penguins. Rematch.
Let's break it down with Math Time with Rex: Making you Mathier
1 2008 Red Wings team
+ 1 very despicable Marian Hossa
+ Bad Karma
- God
+ The Devil
<
1 2008 Penguins team
- 1 despicable Marian Hossa
+ 1 Bill Guerin
+ God
+ Good Karma
That's right. This year, we're the better team.
2.  I found another great picture of my hockey-playing days for you to enjoy.
I agree with you, orange really is a great color on me. Wow.
Note the blood stains on my teeth. It goes without saying that this was an exceptionally bad day for Blor's kid Blor.
You're going to high-stick a monstrous killer death lizard, you're going to get up close and personal with the hangy thing in the back of my throat.
Yes, dinos have those, too.
You learned something today!
3.  This KIND of makes me feel bad about how much I hate the Red Wings:

God help me, but I kind of love Beth, too.
Don't tell Sally!
She's still mad about Gertie.
4.  When I first saw these cookies being sold at the Pretzel Shop in the South Side I thought to myself, Rex, clearly these people are huge fans of yours and so much so that they have baked cookies in your image.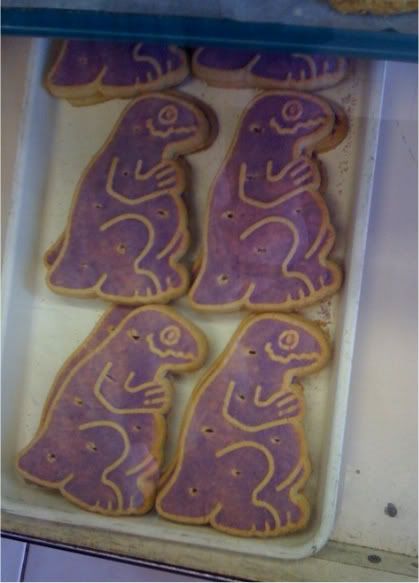 But then I noticed the cookies were … purple.
And then I realized maybe these are … Barney cookies?
BARNEY COOKIES?! In PITTSBURGH?! WHERE I LIVE?!  WHERE I RULE?!?
I didn't get a chance to "speak" to the owners because I blacked out.  I suspect Norm tranqed me, but I can't be sure since when I came to he was nowhere to be found.
So listen, if you see Norm cowering somewhere in fear mumbling, "Just sit still. Stop shaking. He'll never look here." Don't disturb him. Just tell me where he is and I'll play hide and seek and eat with him.
He loves that game.
Rawr.
---