by Rex on September 3, 2009 |

Comments Off
As you know, I often lurk around twitter just to be keep tabs on what Norm says about me, to be sure I don't need to terrorize any people that are making jokes about my ferocious and enormous arms, and to see what the babes are saying about me.
Usually they're saying, "OMG. I LOVE REX! HE TOTALLY WINKED AT ME TODAY!"
Don't tell Sally.
Today, I saw this:
That is the most hilarious joke I have heard all week, no, all year, no, IN THE HISTORY OF TIME!  What an unexpected punchline!
Here's a joke I just wrote: What lives now, has dog poo for brains, and goes "OW-OW-OW-OW!"?  Whoever wrote that joke, getting the stretchy treatment from me.
Also, here's what Norm had to tweet about:
I don't know ANYTHING about that, Norm.
Heh.
Finally, I just recently discovered that my hero Dr. Sheldon Cooper is on twitter!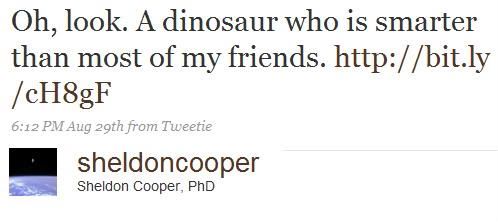 I don't need to click on the link to know that it will probably take you right here to my blog.
It's nice to be appreciated for the genius that I am.
Rawr.
---