by Rex on February 27, 2010 |

Comments Off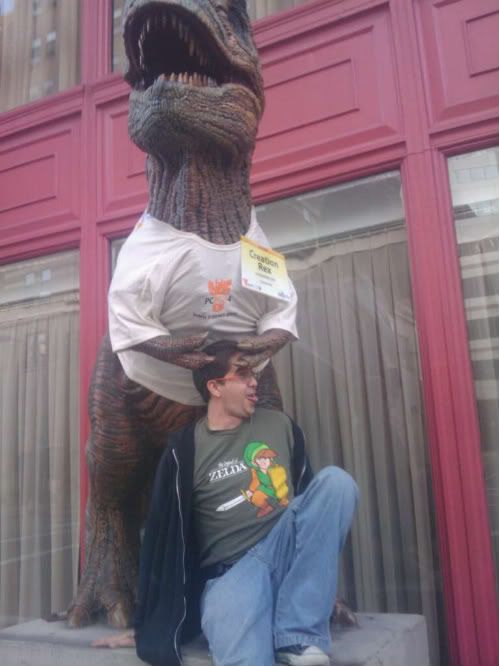 @ChachiSays twitter excerpt:
Norm: "Remember Chachi?"

Rex: "That guy I destroyed?"

Norm: "You didn't destroy him."

Rex: "I recall otherwise."

Norm: "He's my friend, you know."

Rex: "He's my enemy that I destroyed, you know."

Norm: "He's also my friend on Twitter."

Rex: "I wouldn't know that because you don't actually let me use Twitter because you think I'm irresponsible or some other such nonsense and is this conversation going to have a point soon because I'm kind of feeling like punching you right now."

Norm: "With those puny — uh, anyways, Chachi was talking on Twitter today about how much he wants a dinosaur."

Rex: "To fight?"

Norm: "No."

Rex: "To tranq?"

Norm: "As a pet."

Rex: "Good luck with that."

Norm: "I told him you would hang out with him this weekend and kind of be his pet slash friend and he could sort of be your handler since I'm going out of town tomorrow and I actually did need someone to keep an eye on you and he promised he wouldn't tranq you unless it was absolutely necessary and Rex, sit down and stop breathing like that.  What are you doing?  Rex, stop right there.  Don't make me –"
And when I came to, Norm was gone and this Chachi guy is standing there with a stupid grin on his stupid face and he keeps calling me "Rexy" and this weekend is going to be very not okay. For Chachi.
Rawr.
---