by Rex on November 4, 2009
Jake and I had such a blast this Halloween!
We started our evening handing out candy to AIP students and that was awesome for about three minutes because that's how long the candy lasted before Jake snarfed it all down.
I used to be like Jake, eating all the candy I could get my mouth on, even going so far as stealing candy from young trick or treaters.  But I only did that one time back in the 1950s.
How was I supposed to know it wasn't a real rabbit?!  And relax, I didn't eat the kid.  He had at most one or two puncture wounds before my old handler Matty tranqued me within an inch of my life.  The point is, I learned my lesson.  Don't eat ANYTHING on Halloween just because it looks like an animal.
So this Halloween, to be sure we were looking at REAL animals, Jake and I headed to the Zoo to trick or treat.
Can I just tell you, contrary to what you may believe, the Pittsburgh Zoo will not in fact toss a baby monkey into your treat bag just because you show up in a caveman outfit and say "Trick or treat!"
Not only will they not give you a monkey, they will kick you out and call your handler who will come to the zoo with guns blazing.
Blazing, I tell you.
When I came to, it was this morning and who should be standing in front of me, mocking my outfit, calling me Barney and being all brave-like, but Chachi.
Lucky for me, it didn't take me but a moment to clear my head and realize I was still holding a club and that I was still a fierce monstrous killer death lizard.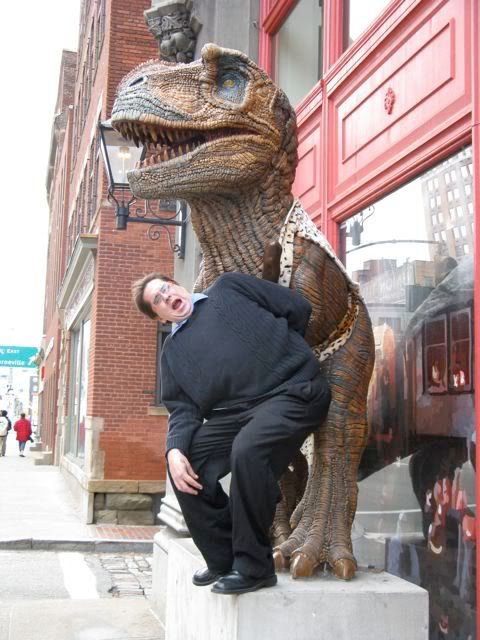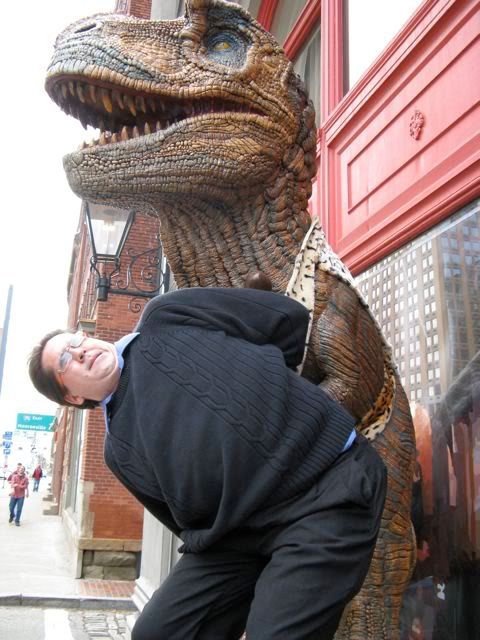 Here lies Chachi.
Someone come get his body.  I'm not saying he's dead, but he sure does stink.
Rawr.
---
1 Comment

Sorry, the comment form is closed at this time.