by Rex on October 26, 2009
Having lived on this Earth for over 65 million years I have seen a lot of Halloweens and that means I have seen Halloween gradually transform from a holiday full of scary costumes, into a holiday that merely encourages young human women to dress as provocatively as possible as anything from a sexy maid to a sexy honey bee.  I'm not even making that up. Who is the genius that first looked at a honey bee and said, "Wow. Hot!" Or, SPONGEBOB SQUAREPANTS.
It's stupid.  Halloween is for scaring people so I say we get back to that. Forget the silly sexy police costume or the sexy cow costume (I have no idea if that even exists, but I bet you $87 million it does), and let's get back to being terrifying.
And what's more terrifying than a dinosaur? Nothing.
Except these horrible costumes. Don't wear ANY of these:
1. Adult Barney, because you look dumb and because I'll probably flay you if I see you in it.  I can't control my killer instinct when I see that stupid green belly.
2. Don't wear this one because it apparently will make you dance like the last drunk, single guy on the dance floor of a winding-down wedding reception.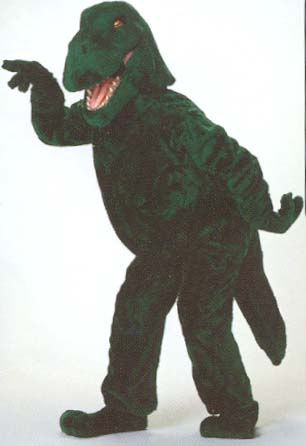 No one needs to see that.
3.  Don't wear this one unless you want to look like a Jackal dressed as a dinosaur heading to a Furry convention.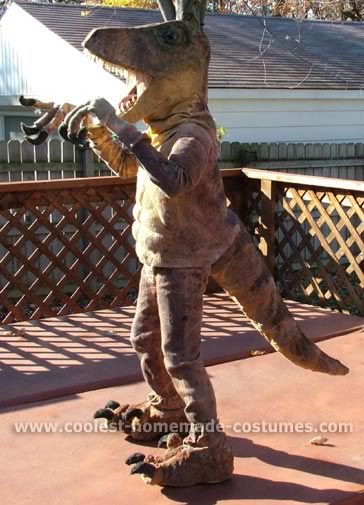 That should be illegal.
4.  Don't wear these ones because we've already talked about how we dinosaurs don't believe in being saddled up by humans unless we have an express written agreement that we're allowed to eat the human at the end of the ride.
Although I gotta say, riding a Pterodactyl sounds like an awesome good time.
5.  Finally, whatever you do, DON'T WEAR THIS ONE!  Because as you can see, Norm plans to wear it:
If that isn't just the saddest thing I've ever seen.
Well, I'm going to go work on my costume for a bit and I'm going to do it being thankful that there is no such thing as a sexy dinosaur costume.
Rawr.
---
1 Comment

Sorry, the comment form is closed at this time.