by Rex on October 12, 2009
This weekend, AIP hosted PodCamp Pittsburgh 4 and when Norm told me about it for the first time a few weeks ago, I was like, "So, what, you guys gather around and talk about pods or camps or …?"
Then Norm told me it was a conference for bloggers, podcasters (no clue), and other such social media (no clue) type things, and I was like, "So, nerds, then?"
And then when I woke up from the completely unwarranted tranquing, I decided to check out this "PodCamp Pittsburgh 4″ for myself. I registered and everything.
The first thing that greeted me at PodCamp was some guy manning the registration table and his name was Chachi.  He really had a bad attitude with me, saying, "Yeah, if we knew you were a dinosaur, we wouldn't have let you register. You'll take up too much space, you'll eat too much food, and besides, what does a dinosaur know about social media or blogging?"
I calmly explained to this Chachi person that 1. I have a blog and it's the best blog in the world and 2. Joanie called and wants to know when he's coming home for dinner.
Chachi eventually obliged and handed me my name tag, which, LOOK!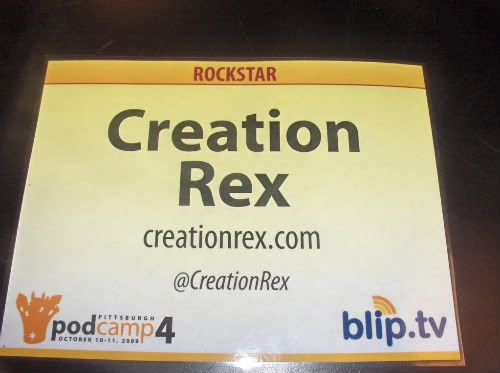 Do you see that? Rock. Star. It's just a fact.
And do you also see they put my twitter name on there? My twitter account that Norm still won't let me use for fear I'll just post true facts about him like the fact that he always [redacted by Norm] before he [redacted by Norm] even if it [redacted by Norm].
After telling Chachi I would deal with his scrawny butt later, I headed up to the fourth floor to check out the sessions and the snacks and the cute nerd babes.  I learned so much! I learned how to find ways to post every single day (which I'm working on getting better at).  I learned how to be sure my online identity is a proper reflection of who I really am (and until Norm lets me show you how I can eat a flock of sheep, you'll never really KNOW Creation Rex).  I learned not to tweet my poop (trust me, if I ever tweeted a picture of MY poop, I would break the Internet), and I learned about how to take better videos, during which, Chachi, who was in the session, whispered to me, "First, you'd need to get yourself some longer arms to hold the camera with."
That guy.
After two days of instruction, I had made lots of new friends who now love to hang out with me.
BABES!  And yeah, there's some guys there, too, but most importantly, BABES!
They even gave me a shirt to wear, see: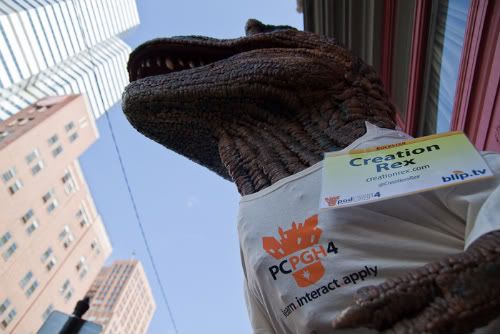 Stunning.
And then Chachi got brave and decided to try to steal my name tag and, well: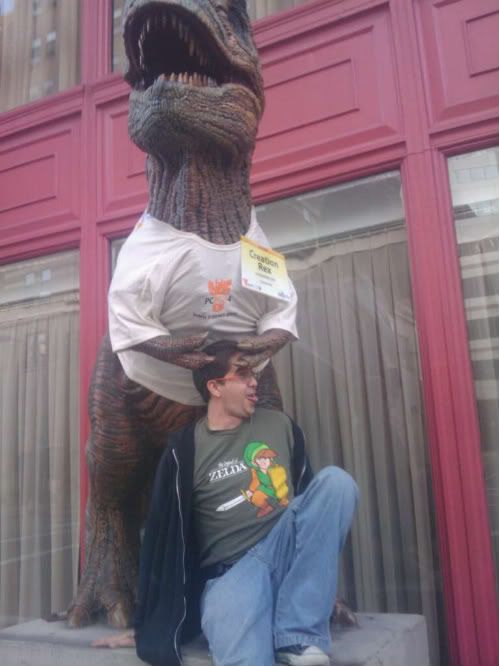 Totally worth the six tranq darts to my butt.
Rawr.
---
11 Comments

Sorry, the comment form is closed at this time.