by Rex on October 6, 2009
Could you imagine if I actually tried to list all of the things that I know about that you don't know anything about?  There aren't enough terabytes on the planet.
For now though, you first of all don't know anything about any dinosaur trying to sneak into the Mellon Arena for the first Penguins home game of the season.  The very Mellon Arena I was banned for life from because I did a harmless little thing like steal the Stanley Cup for a few hours.
Here's the picture than ran in the newspaper next to the headline "Dinosaur spotted lurking in secure area of Mellon Arena. AIP denies it is Rex."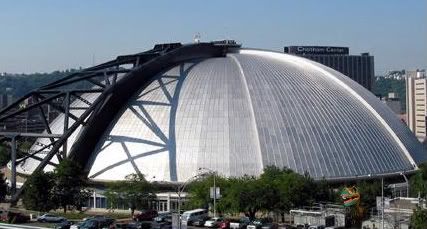 Good ole' AIP. Deny deny deny.
Unfortunately, I wasn't able to get into the building to watch the game live because those sneaky humans locked the roof, making it ridiculously hard for me to pry it open to peek in.  No matter, I watched the game on the outside screen with my adoring fans who liked to jokingly shout, "You! Dinosaur! Either shrink 20 feet or move to the back! Idiot!"
It's cute how they jokingly call me "idiot."  Much in the same way that it's cute when I respond with [redacted by Norm].
The second thing you don't know anything about is this cigar that Leo and Leonis sent me from Cuba where they're enjoying a little beach adventure.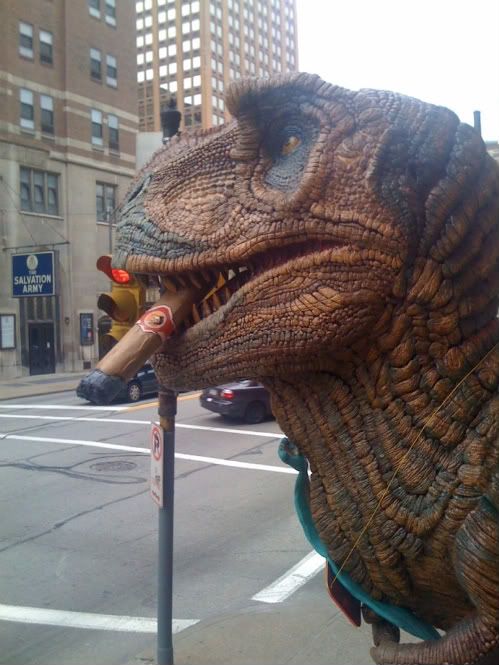 Did I say Cuba?  They're not in Cuba, Dollar Bank.  They're somewhere where it is perfectly legal to purchase cigars from.  Um, Indiana.
That's a place right?
Also, bets on how long I can actually smoke this cigar before Norm marches out here and puts it out with the fire hose?  I'll put $40,000 on ten seconds.
Rawr.
---
No Comments
No comments yet.
Sorry, the comment form is closed at this time.