by Rex on September 28, 2009
1. Well the G-20 is over and while many of you stayed away either because you wished to or were told to, I have to tell you, international reporter babes are so much fun.
I would tell you "Don't tell Sally" but she was up to her eyeballs in love with a reporter from France, so I don't think she would even notice if I was otherwise occupied with international reporter babes.
I wonder if River Rescue ever fished that reporter from France out of the Mon.  No clue how he got there.  At all.
Also, best part of the G-20? HORSES!
What?
2.  An adoring fan of mine, @getfreshdesigns, sent me this picture:
It's a T-Rex game and the object of the game is to flee the angry, monstrous, king of beasts, the terrible tyrant lizard T-Rex.
Please note the box says you will move "realistic dinosaurs" safely away from the T-Rex.  I assume this means the dinosaurs cry like little babies all, "Don't eat me! Please don't eat me!"
I approve this game and if the maker of this game would like me to film commercials for this game, I will put that loser Sham-wow guy to shame.
3.  Pittsburgh is wondering what happened to the lions that normally guard the Dollar Bank on Fourth Avenue.
Norm even posted about it!  Here's the before when the lions were on guard: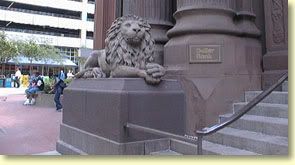 Here's the now:
As you can see, their handler/wrangler is just staring at their empty seats wondering where his charges disappeared to.  You know his tranq gun is hidden safely in that bag, locked and loaded.
Um, those are my buddies Leo and  Leonis (they're twins doncha know?) and when they read about my adventure in stealing the Stanley Cup, they came to me and said, "Rex, your life is so awesome and all we do is sit there on our pedestals and sleep and eat the occasional bank burglar.  We wish we had lives as exciting as yours.  And a girlfriend as hot as yours."
I'm paraphrasing a bit.
So I instructed Leo and Leonis to find themselves an adventure.  I'm expecting a postcard back from them any day now.
I think they said they were heading east first.  Something about New York City.
I'll keep you posted, Dollar Bank, and I'm sure as soon as they've sown their wild oats, those two rascals will be right back guarding your building before you know it.
And to you, dear readers, if you see Leo and Leonis' handler around and he asks you if you have any idea where they've gone, repeat after me: "I don't know anything about that."
4. Finally, no, I can't talk about the Steelers right now.  I'm too mad, it's too painful, and Norm has told me I'm under no circumstances to eat Limas Sweed.
Even though he deserves it.
Rawr.
---
2 Comments
Sorry, the comment form is closed at this time.