by Rex on September 14, 2009
As I told you last week, I did not make it to the NFL kickoff concert at Point State Park, nor did I, the King of Steeler Nation, attend the game at Heinz Field.
With the entire city held captive by either that "dress" Fergie wore or by the mad football stylings of Troy Polamalu, Jake and I seized on a once in a lifetime opportunity to do what I have been threatening to do for three months.
Steal the Stanley Cup right out from under Sidney's nose.
The first step was to be sure the entire student body was distracted and wouldn't notice Jake and I slipping into the night like dinosaur ninjas.
You'll notice Jake was SERIOUSLY angry about that bogus interference call on Troy Polamalu.  I managed to silence him right before he roared in anger.
Out into the cool night, Jake and I reviewed the plan which was 1. sneak out 2. steal the prize 3. laugh like mad maniacal dinosaurs 4. snack 5. nap.
That plan is foolproof.
Jake and I sneaked ninja-like through dark alleys and then swam the river up to Sewickley.  Here we are after exiting the river.
You'd never guess you were looking at dinosaurs would you?  Sally is a genius seamstress by the way.  Also, you should see the size of her sewing machine.
Look how happy Jake is!  Am I not the best mentor in the whole world?
After once again reviewing the plan and also informing Jake that under no circumstances was he to eat any of the Lemieux family pets except fish, we disabled the alarm system using a trick I learned on MacGyver last week (God bless bubble gum and toothpicks!) and slipped into Sidney's bedroom to find this: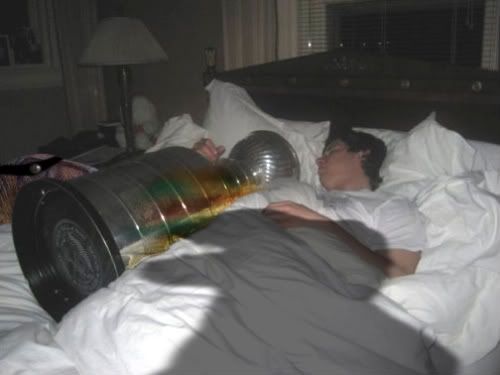 Aw. Sleeping with the Cup. How cute.
I turned to Jake and I said, "Ok. very gently, pick it up."
And Jake walked over and gently picked Sid up like a little baby, to which I said, "WHAT THE CRAP ARE YOU DOING?!"
And Jake looked very confused and said, "I thought we were picking up dinner!"
Kids these days. I swear. Can't even steal right.
After I set him straight, Jake gingerly returned a still-sleeping Sid to his bed then I grabbed the Cup, gave it a quick smooch and we were off.
Unfortunately for us, we didn't know Billy Guerin was also staying the night at Mario's place.  He saw us sneaking off the property and promptly hopped in his car to chase us down while angrily punching Norm's number into his cellphone to let him know what I had done.  I can't for the life of me figure out how he knew it was us. I mean, hello? Disguises!
I guess Jake just doesn't make a very good ninja.
This is the last thing I remember as I slipped into a tranq-induced unconsciousness:
Pretty sure he's telling me where I can go and it's not "to have a nap."
The Cup is gone. But I had it briefly. I kissed it. I hugged it. I drank out of it. I wore it as a hat.
I'm in a WORLD of trouble.
I haven't seen Norm this mad since I flicked his car into the river because I was teaching Jake about objects that sink versus objects that float.
Here's a lesson for you today. Cars? Not very floaty!
Rawr!
---
1 Comment
Sorry, the comment form is closed at this time.