by Rex on September 4, 2009
The Student Carnival was held recently here at AIP and I have to say this year may have been the best one yet.
Norm was kind enough to send me the pictures he took while I was busy enjoying the festivities with my worshipers the students.
Here I am preparing for the Twinkie-eating contest.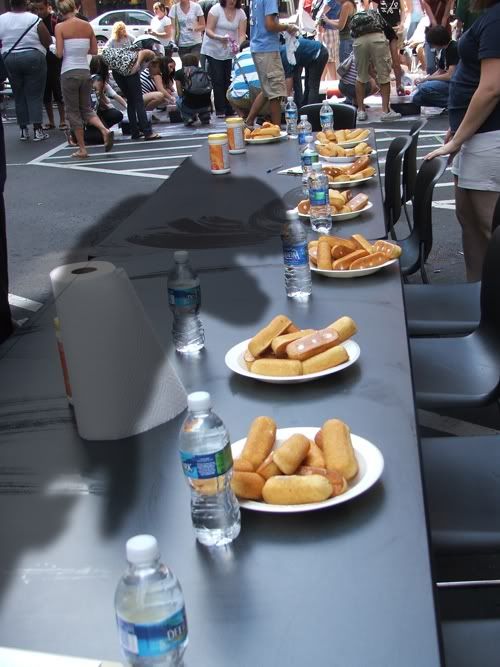 Do I really need to tell you that I won? Do I really need to tell you that I ate 544 Twinkies in 4 seconds and that I could have eaten about half a ton more if they hadn't run out of Twinkies?  That's just poor event planning, is what that is.   After dealing with the angry students and their false claims of "Rex, DINOSAURS ARE NOT ALLOWED TO PARTICIPATE IN THE TWINKIE-EATING CONTEST!" I headed over to this table because first, there was a babe running the sno-cone machine and second, look at that guy in the red CLEARLY gesturing to me to eat all the cotton candy in the machine.
That's a "Have at it, Rex!" face if I ever saw one. So I did.  After I dealt with the angry students and their ridiculous whining of "REX, YOU ATE ALL THE COTTON CANDY, YOU GIANT GLUTTONOUS JERK!" I then headed over to the bull-riding arena.
As you can see, that bull looks delicious.
After dealing with the angry students and their pouting and crying of, "REX, THAT WAS A MECHANICAL BULL!  YOU ARE GOING TO BE POOPING PARTS FOR WEEKS!" I realized I may have gone a BIT too far, so I apologized to the students, and graciously offered to give them all dino-back rides around the place for only a dollar each.
It wasn't until about the 35th student took their turn "riding" me around that I realized that 544 Twinkies, 200 servings of cotton candy, and a rusting mechanical bull are murder even on a giant monstrous killer death lizard's stomach.
So I headed home a bit early to mess with Norm's Apple stuff and to steal his socks.  All in all, a great day was had.
Also, pooping rusting mechanical parts? Not that bad.
Rawr.
---
No Comments
No comments yet.
Sorry, the comment form is closed at this time.