by Rex on August 13, 2009
Grab your medicinal inhalers or brown paper bags and have a seat because Rex is about to take your breath away.
Norm gave me some new art supplies! I assume it is because he recognized my talent and not so much because I threatened to [redacted by Norm] him.
And that's the story of how I got my hands on something other than a Sharpie.
First up is a painting I did of me chasing some cavemen back in prehistoric times.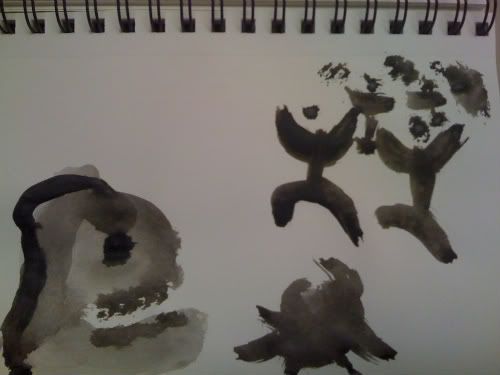 Notice that I've already killed one.  Note the blood on my lips. Note how stupid cavemen look when they run. That little splotch of a caveman in the middle is actually Blor's kid Blor. I bet for all the times I've talked about him, you were dying to know what he looked like. Now you know. I'll sell this to you for $15,000 or to a museum for $150,000 or to a babe in exchange for a walk along the North Shore while you hold my hand and DON'T TELL SALLY!
Next up, my painting of a Steelers game:
Note the attention I paid to getting just the right shape to the football. It wasn't easy to do that so perfectly, trust me. Also, you can clearly distinguish between who is a Steeler and who is a Patriot can you not? I will sell this to you … no, never mind. I am going to save this for when we win the Super Bowl and I will have Ben Roethlisberger autograph it and THEN I will sell it for 75 million dollars. This is a good plan.
Finally, I took the time to paint my love Sally for you: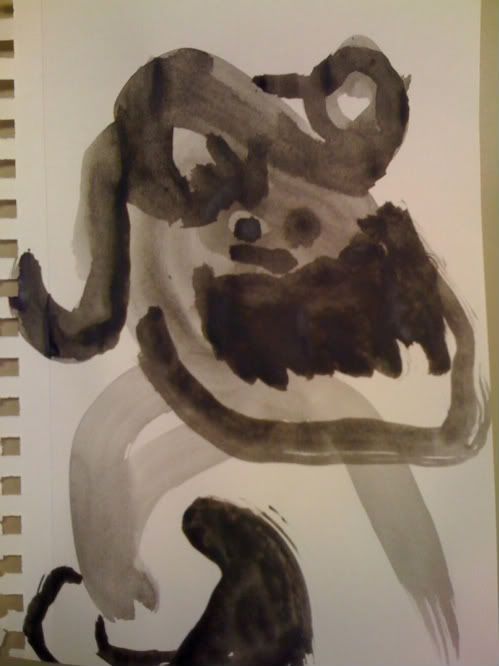 Listen, I realize she is stunning, but if you don't stop drooling over her I will have no recourse other than to hunt you down and de-limb you. Back off. She's mine. I will sell this … uh, wait … hang on. I got an email from Sally. Whoa. She's not happy about this painting. She wants to know why she has a giant mustache. You know what? I don't think Sally understands fine art.
Rawr.
---
No Comments
No comments yet.
Sorry, the comment form is closed at this time.