by Rex on August 4, 2009
Remember when I wrote that I asked Norm for some art supplies because I had a hunch that after 65 million years of living, I'm probably a fantastic artist?
To Norm "art supplies" apparently meant a tablet of paper and a Sharpie.
It doesn't matter. He could have given me a piece of cardboard and a broken white crayon and I still would have created a masterpiece called Snow. Talent like this isn't limited by mere art tools.
My point here is that 1. Norm is cheap and 2. I AM a fantastic artist!
First up, this is my portrait of Norm, my wrangler, my handler, my sometimes friend, and my carcass bringer:
Note the attention to detail. Norm has clearly just unloaded his tranq gun into me and is laughing with evil glee as I fall slowly to the ground. Note his true-to-life nose. Note his dorky hat. I call this one "Norm". You can buy the original from me for $6,500 or a dead sheep. Whatever you've got.
Here's one I drew of the Mayor reading me the list of things I am not allowed to do during G-20:
You'll note from my expression that I zoned out somewhere between number 1 and the end of number 1. Also, note the dorky hat. I'm not selling this one because I think "Selling dorky pictures of me" was number 622 on the list. I call this one "Blah Blah Blah".
Here I am swimming in the river.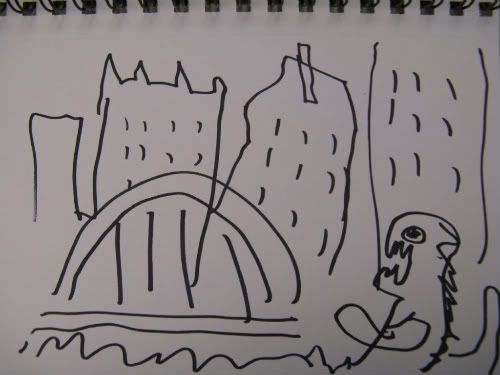 Note I'm not wearing any clothes. Note my incredible biceps. I'm selling this one for $7,000, unless you are a babe, then you can have it for free as long as you DON'T TELL SALLY!
Speaking of babes, here is my drawing of some adoring fans seeking pictures and autographs: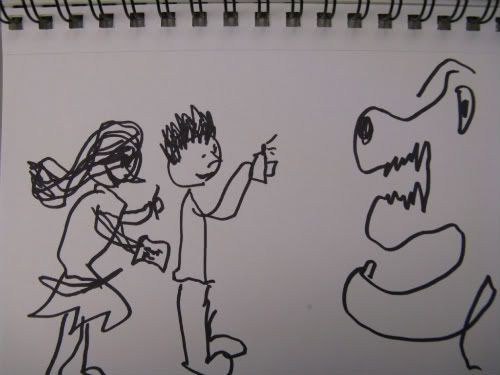 Note the babe and the look of adoration in her eyes. Note that I am considering disposing of her boyfriend with the dorky hair.  Note my incredible biceps.
Now that I've finally shared my talent with the world, I'm going to talk to Norm about holding a show at the gallery here at AIP. If these sketches alone don't convince him of my talent, then this one surely will: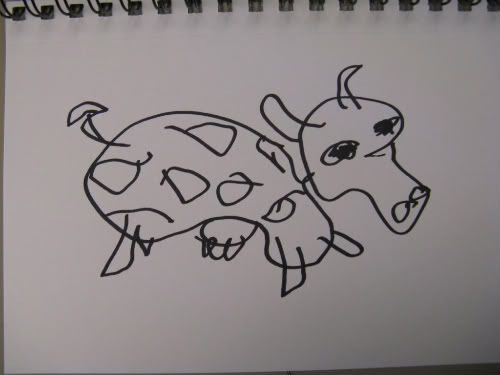 I call it "Cow". I know. It's terrifying how awesome I am.
Rawr.
---
No Comments
No comments yet.
Sorry, the comment form is closed at this time.