by Rex on July 30, 2009
1. The Pirates are unloading players like crazy these last few days.
I wonder if the Pirate Parrot is available for trade because if it is, I think you know what to do: trade a pack of gum for him, knock him unconscious with a tranq gun I'll give you that I totally didn't steal from Norm, and then after you've rendered him unconscious, bring me the giant bird. With some salt and pepper. And a giant toothpick.
Love you.
2.  The Steelers signed Heath Miller to a six-year deal, which was a smart move considering he is the one human on Earth I consider the closest to being a dinosaur. Or a machine. Or a robot. Or a robot dinosaur.
Let's go with that.
3.  I think I'll take Jake to the next AIP open house so he can meet some more humans. I take my mentor duties seriously and the lad clearly needs to practice his don't eat the people skills.
Stop by and say hi to us if you come. We don't bite.
LOL!
Get it? We totally bite. Hard.
But still, say hi!
4.  I have been foiled over and over again, mostly by Norm, in my attempts to steal that cuppy thing that lives at Mario's house.  I'm bringing in reinforcements though, so watch out, Mario. Watch out.  It's about to get all ninja up in here.
5.  A thought: There needs to be a movie about a ninja dinosaur and I need to star in it.
I'm glad you agree with me.
6.  Smithsonian.com has a post up about the Five Worst Dinosaur Movies of All Time which led me to a movie so bad, so atrocious, so hilariously devoid of anything positive that it might actually make your day.
Let's do MATH TIME WITH REX!  Making you mathier because I care.
Girl in a brown bikini + dinosaur puppet + director + script – talent – special effects budget – plot – more talent + ridiculousness*763,000 = HAHAHAHAH.  HAHAHAHAH!  HAHAHAHHA!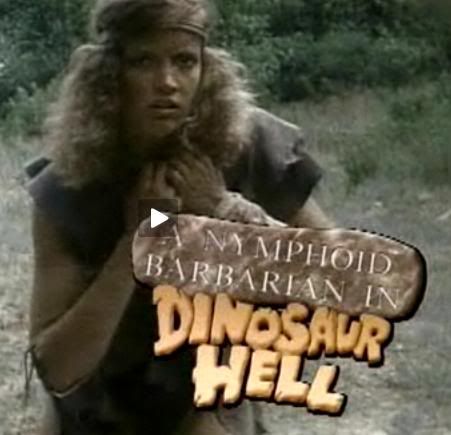 I can't pick my favorite part of the trailer. Maybe when the girl leapfrogs to safety, or the giant fake alligator, or maybe when the big fake Graboid shows up.
There's no telling!
Worst movie ever or WORST BEST movie ever or BEST WORST movie ever?
I can't decide. But I do know this, Ninja Dinosaur will win an Oscar.
Rawr.
---
1 Comment

Sorry, the comment form is closed at this time.