by Rex on July 14, 2009
The post you've been waiting for is finally here.
Shut your office door, put you phone on mute, tell your yappy girlfriend to shhh (not you, Sally.  I love it when you go on and on and on and on about God knows what. Love that.) and have a look at my best vacation pictures.
First up, I headed to my old stomping grounds, the play yard where my dino friends and I used to play with dominoes. Some of those dominoes are still standing today, so of course I wanted to get my picture taken there.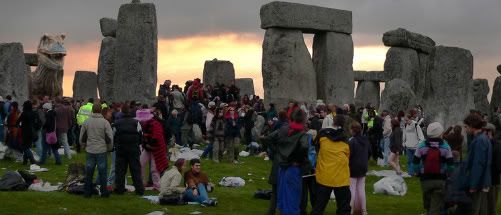 (source)
Let me tell you, they were NOT happy when I knocked a few of the dominoes over last week. Not happy at all.  Running after me all, "Bullocks! Chivvy along now, you bloody beast!"
Fighting off the angry throngs of silly humans, I worked up quite an appetite, so logically, I hit Ireland for some snacks.
(source)
If you think ribs are messy, you'd be flabbergasted at how messy a dino gets after a herd of sheep, so off I went to Iceland to take a bath in the Blue Lagoon:
(source)
Or, as it could be called now, The Reddish Blue Lagoon.
It's a delightful color, really.
I spent the next few days visiting my old girlfriend.
(source)
Boy did she pick a bad plastic surgeon for her nose job. Yikes.
Sally was THRILLED with this picture. "What'd she do, get hit in the face by an asteroid?!"
I bid Sphinxie ado and headed over to China to have a look see at their supposedly giant wall.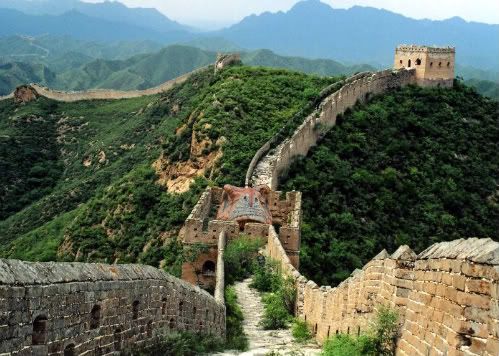 (source)
What do you know, it's a GIANT wall.
Couldn't kick it down no matter how hard I tried.
Anyway, one frantic "I'M IN JAIL … IN CHINA!!" call to Norm later, I was free but hungry from the begging and crying, so that of course meant … snack:
(source)
Good ole' China.
If you think sheep are bad, you ought to have seen me after I [redacted by Norm because of blood and gore].
By this time, it was almost time to head by home to AIP and I didn't want to come home smelling like I just [exact same thing redacted again].
Shower time!
(source)
Dear Canadians. Don't have giant showers if you don't want giant animals showering entrails off in them. Gosh.
For all the freaking out you did, it's not like I came to your country and feasted on your … what does Canada even have, eh? Other than delicious exotic French-Canadians.
Fresh and clean and worn out from my travels, I headed home to Norm who greeted me with open arms and the tranq gun powered down to 50%.
Perfect for a long nap.
Also, Norm, when the Chinese embassy calls about some cows, or the Spanish embassy about some bulls, or the French embassy about some sissy Frenchmen … I don't know anything about that.
Rawr.
---
No Comments
No comments yet.
Sorry, the comment form is closed at this time.