by Rex on June 22, 2009
Please accept my apologies that I did not post anything on Friday.  As you recall, that was graduation day at AIP, so you can imagine the hustle and bustle of the day for a graduate like me.
I'm not the only one that was AWOL on Friday.  As you also recall, my wrangler Norm was on vacation last week which meant I got to post whatever I wanted to without it having to go through The Wrangler Filter of Suctioning the Fun out of Everything.
Well, as it happens, Norm is too busy today to turn off my publishing abilities.  AND he emailed me some pictures from his trip. AND I don't have to get his approval before I post them. And I love this.
Here's Norm's vacation photos.  With captions by Rex. Because all Norm did was clog my email with a bunch of enormous pictures and tell me he'd catch up with me later.  I guess it is up to me to fill in the blanks.
Only a dinosaur wrangler and maybe "Dr." Matt Lamanna would use their vacation time to see MORE dinosaurs, but that's exactly what Norm did with his vacation.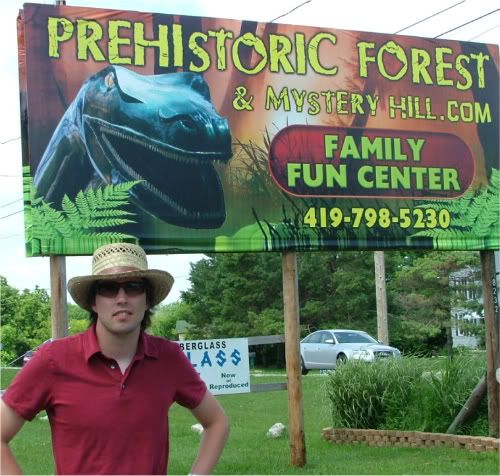 That's his summer wrangler hat, in case you're wondering.
What's happening in that picture is Norm is thinking, "I miss Rex so much.  I wonder what that fearsome and far superior being is doing right now."
NOT stealing the Stanley Cup, that's for sure, Norm. No, sir, I would never do such a thing.
Moving on:
Ever see those pictures of people who position themselves just so and then pretend like they're holding up the Leaning Tower of Pisa?  Here's Norm's dinosaur version where he holds up the neck of what looks to be a dinosaur with a serious disease that turned her skin greenish blue.  Look, she's totally about to puke on that car.  I hope that's Norm's car.
Ha. Ha. Norm. So funny. Look at you holding up the giant dinosaur neck with your head.
In that picture, Norm is thinking, "Rex is really the best dinosaur ever and I can only hope to one day be as magnanimous, awesome, perfect, popular and brilliant as he. When I get back home to Pittsburgh I am totally taking him to the farm for a snack."
And finally, we have this picture: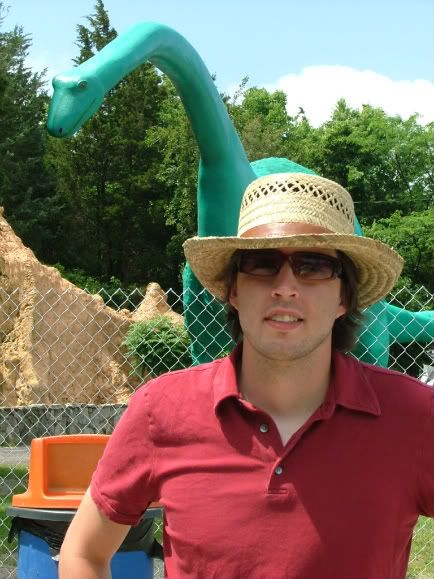 Apparently, as he often does, Norm has done something to tick off this puking puke-green dinosaur, because that's a "you're going to die now" look if I've ever seen one.
Instead of running for his life like he should, Norm is thinking, "Rex is just the best. It is far time I realized that I will never be as adored or magnificent as he. In fact, I miss him so much, I will never tranq him again. No matter what he does. Not even when he steals the Stanley Cup."
Er. I mean IF.  "IF he steals the Stanley Cup."
Wink.
Rawr.
---
No Comments
No comments yet.
Sorry, the comment form is closed at this time.