by Rex on June 15, 2009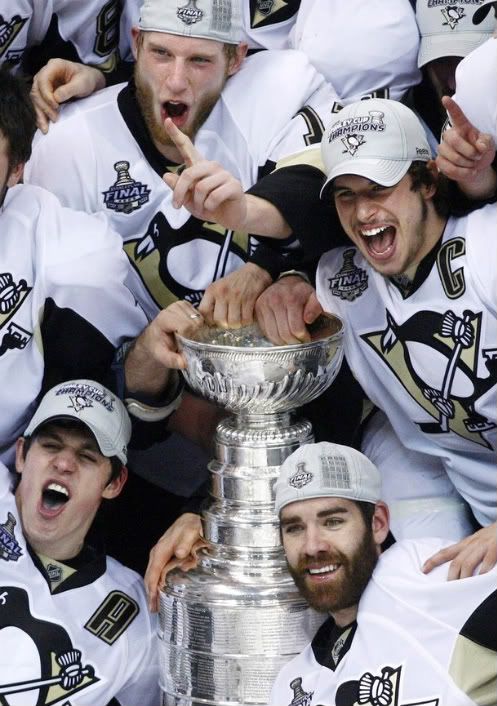 Norm is on vacation this week and that means several things:
1. Free publishing rights for me, which means no stupid redacting when I want to call Marian Hossa a [redacted by Rex]. (I promised Norm I would behave. So I'm behaving and redacting myself. This is maturity, Norm!)
2.  No threat of being tranqed when I pick up anyone that dares climb up on me during today's parade and I fling them into the Mon like a screaming rubber band. "Look at him fly!"
PENGUINS! Can we please recap?
Four games in which I had an octopus in my jaws = 4 wins
Three games in which I had NO octopus in my jaws = 3 losses
Clearly, I should be allowed a sip or two directly from the Stanley Cup. Or at the very least be allowed to walk in the parade to bask in the adoration of the entire city.
Hmph. Wonder what it will take for me to get my hands on the Cup? Just for a day or two.
I watched Game 7 with Norm and he only had to tranq me twice and I only had to tranq him once … right after the Red Wings scored and he went ballistic. But don't worry, he came to in enough time to give me a good talking to right before Marc Andre Fleury made the save of his life as the last second ticked off the clock.
That earthquake you may have felt if you were anywhere near downtown was me picking up Norm like a baby doll and jumping up and down and up and down while roaring at the top of my roar.
The parade is going to be insane today.  If you're downtown, stop by and say hi to your good friend Rex, without whom the parade would never have even been possible.
Also, if the Stanley Cup should mysteriously disappear at any point during the parade route and reappear in my hands, well, as usual, as always, I don't know anything about that.
Rawr.
---
3 Comments

Sorry, the comment form is closed at this time.