by Rex on June 10, 2009
1. You must believe in the power of the Mojo Octopus by now.
I aged more over those 60 tense minutes of hockey than I have aged in my previous 65 million years on Earth.
I know for a fact my heart literally stopped beating as I watched Rob Scuderi play goalie for a scrambling Marc-Andre Fleury.
Luckily Norm was standing by to kick me in the chest as hard as he could to get the old ticker beating again.  And then I smacked him into the wall for having the audacity to kick me.
Game 7. We have the mojo. DON'T BE STUPID AND TRY TO STEAL THE MOJO!
2.  I'm getting even more famous now.
Pittsburgh Sports and Mini Ponies (delicious BITE-SIZED PONIES!) called me a "beast", which, yes, the last time I looked in the mirror and smiled to reveal blood-stained teeth, I am very much a beast.  Then they also revealed that I'm not a bandwagon fan.  Of course I'm not a bandwagon jumper. I weigh 5 tons. I would DESTROY the bandwagon!
Yahoo! Sports' Puck Daddy has posted twice about me and my penchant for munching on whimpering octopi for the sake of my entire city. I think he's, like, in awe of me.
And last night, NBC showed me standing guard outside of AIP and the commentator asked, "Who is that little guy?"  Hey, NBC, come here and say that to my face you Red Wings-loving [redacted by Norm].
3.  Some guy named Dave Crawley came by to visit me today and to take pictures.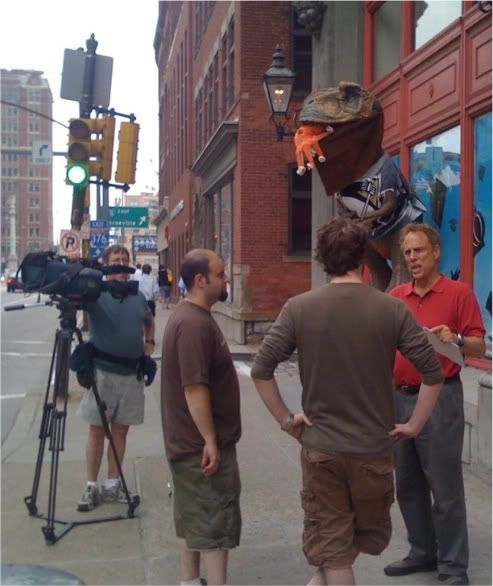 He must be a huge fan. I think I might need some velvet rope, Norm, for these groupies I'm acquiring.
Unless they're girl groupies.  Especially cute girl groupies. But don't tell Sally. She's getting a bit jealous from all the attention I'm getting lately.
It's kind of hot.
[Wrangler Note]

Rex, All this attention must be going to your head because you forgot to mention you'll be on KDKA tonight around 6:45. Now all your "adoring" fans can tune in from home, no velvet rope needed.
4.    All of this excitement and fame and hunting down evil-doers has left me with barely no time to ride my motorcycle.
What?
You don't believe me? The proof is in the picture:
You can go ahead and make fun of my helmet, but then you should ask yourself how badly do you want to be handed your own arm?
Rawr.
[print_link]
---
1 Comment

Sorry, the comment form is closed at this time.