by Rex on June 4, 2009
Let's talk about dinosaur jewelry.
Reader Heidi (she's cute) brought VERAMEAT jewelry to Norm's attention.
First, unfortunately, like you I initially thought meat was involved in this jewelry. It is not. Not a speck of meat to be found. You shouldn't be allowed to have anything with the word meat in it if there isn't actual meat involved. It's very misleading.
OKAY!
However, there is this dinosaur necklace that is officially okay in my book: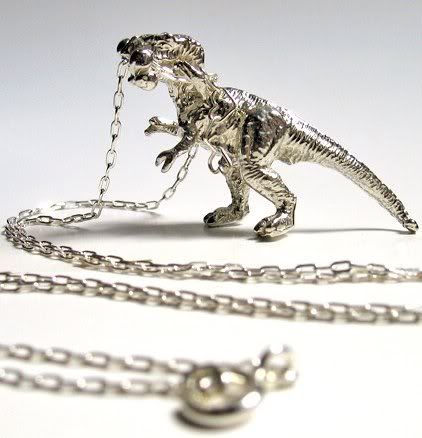 Now that we've looked at the okay, let's have a look-see at the really really never ever okay dinosaur jewelry.
NOT OKAY!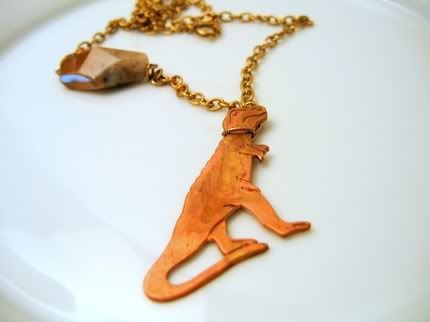 First thing wrong with this necklace is that the T-Rex is collared.  We've already talked about how that can never happen.
Second thing wrong is the arms look like nubs.  It's insulting to my ferocious, crushing biceps.
Third and biggest thing wrong with this is that the necklace incorporates dinosaur poop.
That's right. You can walk around with actual dinosaur feces strapped to your neck.
Dinosaurs are fearsome, brilliant scavengers.  Humans walk around with decorative poop around their necks and WE'RE the ones that almost went extinct?
Further proof of God's horrible sense of humor.
Rawr.
---
1 Comment

Sorry, the comment form is closed at this time.