by Rex on May 26, 2009
You know that site that has the cute little snack foods?  You know the one with the words over the snacks? You know, the snacks with the horrible grammar and even worse spelling? You know, the one with the noms? Yeah, THAT site.  They're having a contest to coincide with the release of Will Ferrell's new movie Land of the Lost. See:
Eek! Wook at the wittle kitty.
The point of the contest is that humans are supposed to take pictures of their noms (that's what I call cats. They're not tasty and in fact they're quite beef-jerkyish, but still, very nom-able) doing their best rawr.
Since noms can't really rawr any more than fish can rawr, I asked Norm to show them what a RAWR really is: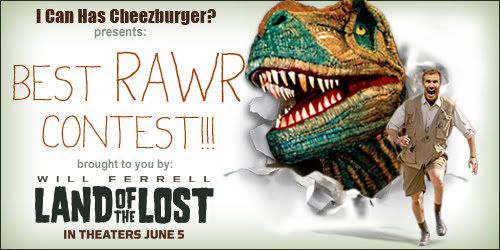 Doesn't that look better? No one will ever run screaming from a nom, but EVERYONE runs screaming from these mandibles of death.
You should watch the trailer for this movie if only so you can see what happens at 1:50.
Yesssss.
Rumor on campus is that an AIP grad worked on this film. I'm going to get to work on getting to the bottom of that, just as soon as I finish these noms.
I think you know what I mean.
Yesssss.
Rawr.
---
No Comments
No comments yet.
Sorry, the comment form is closed at this time.