by Rex on May 22, 2009
1.  What in the name of the lightning bolts of Zeus has gotten into Evgeni Malkin?
He is a man on a mission and that mission is to win the Stanley Cup and hopefully to give us more interviews like the one that he gave yesterday in which he basically said, "Mom. Love. Cook. Game. Goal. Dad. Shoot."
Those were all the words I understood.  I tried to translate more but I don't speak Hockey God.
And then there was Norm on twitter, as the game ended, once again showing off his death grip on the English language.
That's poetry, Norm. Is that how you say "hat trick" in Hawaiian?
2.  How long do you think before Geno's parents just start making out in the stands when he scores a goal?
3. I think I'll watch the next home game at the big outdoor screen with the rest of the fans. Norm, I'm going to need you to get there early and block off a 15-foot by 15-foot space for me. Use velvet rope, please.  If anyone gives you a hard time, tag their shoulder with a Sharpie and I'll maim them when I get there.
4.  Rexrolled you!
5.  Do not freak out, because I freaked out a little bit and broke some sidewalks (Sorry, Mayor Luke!  Send the bill to AIP to the attention of Paul Pezich).  Would you look at this computer mouse that transforms into a Monstrous Killer Death Lizard?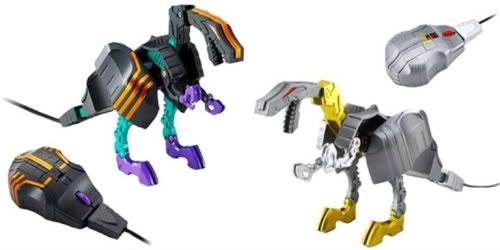 This is a very very okay product!
If he knows what's good for him, Norm is getting me one of these for Christmas.  I'll probably give him my usual gift … stress.
6.  A NOT Okay product?
A dinosaur pinata? NOT okay!
Hey, how about I shove some hard candies down your throat and then beat you with a pointy stick until you puke them back up?
7. Math time!  My new motto for this portion of the blog is "Math Time with Rex.  Making you mathier because you're chromosomally inferior."
I still love you, so help me help you.
2 regular weekend days +
1 holiday day -
1 dinosaur wrangler who is busy partying on Monday -
1 imminent threat of tranquing +
1 dinosaur with the knowledge of Matt Lamanna's whereabouts =
No posting on Monday.
Rawr.
---
No Comments
No comments yet.
Sorry, the comment form is closed at this time.