by Rex on May 21, 2009
Today I obliged some of the staff at AIP with a photo op to give them a chance to show off their Penguins pride on this the day of Game 2.
Here's the group shot: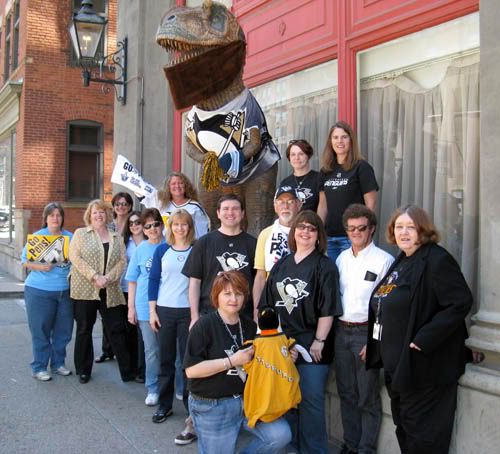 1.  Notice they brought me gifts.  A black and gold pom-pom and a Winter Classic blue hat.
I love my people.
2.  Notice my beard. Still frickin' awesome.
3.  Notice that none of the babes are kissing me on the cheek. I'm sad by this. (Don't tell Sally!)
Here's me and my wrangler Norm who surreptitiously doffed his hat and holstered his tranq gun so as to appear harmless.
1.  Notice whose playoff beard is awesomer.  Hint … rawr.
2.  Notice that Norm used PhotoShop to make himself appear taller. That's sad.
3.  Notice that I have apparently just pooped out a penguin.
I am never eating at the zoo again.
Rawr.
---
1 Comment

Sorry, the comment form is closed at this time.