by Rex on May 20, 2009
Norm told me I had mail and I assumed he meant e-mail, but in reality, I had mail. You know, MAIL MAIL. Postal service mail. Letter carrier mail. Pony express mail.
Mmmm, ponies. Wait. Where was I? Right, MAIL!
A fan of mine drew this little cartoon for me: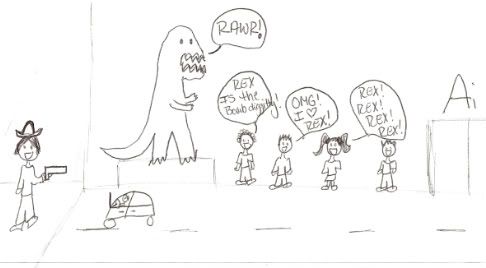 I have some things to say:
1. This is a true to life representation of the adulation and adoration I receive from the AIP students on a daily basis.
2.  In this cartoon "rawr" clearly means "I love you."
3.  Please notice the [redacted]-eating grin on Wrangler Norm's face as he aims his Tranq Gun of Doom at me. This is a true to life representation of Norm's ridiculously jittery trigger finger. I can't rip one tiny limb off of anything without him giddily gunning for me. One of these days I'm going to steal it, shoot him in the butt and when he comes to muttering about unicorns, YOU DON'T KNOW ANYTHING ABOUT IT!
4.  Norm wishes he was that tall.
5.  It is a tough job being the bomb diggity, but my God, someone has got to do it.
Know who else is the bomb diggity? Whoever drew this for me.
Rawr.
---
No Comments
No comments yet.
Sorry, the comment form is closed at this time.