by Rex on May 8, 2009
I dug up some more pictures of my hockey-playing days for you, because I like you … because you're my friend … because we don't talk about ME enough.
I'm a bit older than I was in the previous post in which I was playing with a bunch of violent rugrats.
Here you can see that I then played with a bunch of brutish whippersnappers:
First, notice the eye of the tiger I've got going on there.  That's just full of win.
Second, notice that there are no fans in the audience. This is because I ate them.
Wow, you really need to calm down with this thinking I eat everything in sight. I'm JOKING. I didn't eat the humans. I ate their kids.
Again, J-O-K-I-N-G.
Do you always twitch like that?
Third, yes, I agree, I do look great in blue.
Fourth, no that's not Blor's kid Blor. That's Glor's kid Glor. Again, the cavemen, not the brightest asteroids in the sky.
Fifth, that was as close as anyone from the opposing team got to the puck that day.  I'm pretty sure the score was 56 to 1.  They only managed to score when I took a snack break TO EAT EVERYONE'S PETS!
You're twitching again.
Here's a much older picture from when I was first learning to skate.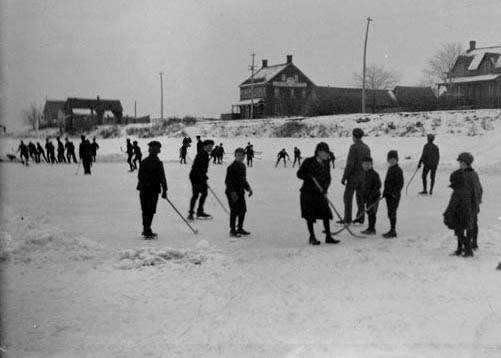 Can you find me? It's like Where's Monstrous Killer Death Lizard Rex?! I'm in there somewhere, laughing at their stupid hats.
Rawr.
---
3 Comments

Sorry, the comment form is closed at this time.