by Rex on May 7, 2009
When I'm bored, which tends to happen when the foot traffic slows down on the Boulevard (Rex + no humans to scare = bored monstrous killer death lizard), I like to search around the twitterverse and see what I can find.
Today was an exceptionally good hunting day with me placing just as many people on my LOVE list as I did on my KILL AND EAT list.
First are the LOVE:

Took the words right out of my pointy teeth-filled mouth.

I HEART YOU, TOO, CALIPANTHERGRL! (Don't tell Sally!)
Isn't that just cute as crap!?

Wow. Quoted on twitter! I feel so famous.

Hey, that IS the sound I make when I run!
It could be, lcmcbeth. Especially if you live in Pittsburgh anywhere near "Dr." Matt Lamanna.  He's so fun to chase and the more speed I get going the more "booommmm shaka-laka" it gets.
Now these are the KILL AND EAT twitterers:
So original. Bravo.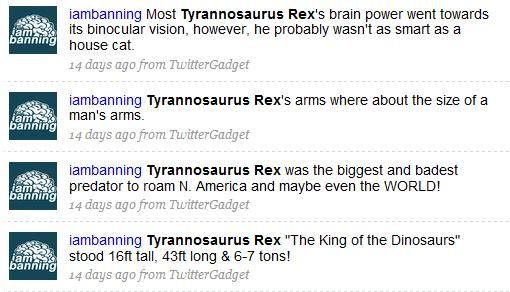 He was a "LOVE" with his first tweet on the bottom there, but by the time he tweeted his last tweet at the top? KILL AND EAT!
Oh, again! Bravo! Encore!

Die.
This one is neither LOVE nor KILL AND EAT.  It's just funny!

And finally, there's my wrangler Norm who tweeted this immediately after Letang's goal last night in overtime:

Wow, Norm. Your English is solid as a rock, my friend.
Rawr.
---
No Comments
No comments yet.
Sorry, the comment form is closed at this time.