by Rex on May 5, 2009
1.  As you are aware, the Penguins are deep in the throes of the second round of the playoffs and I am STILL not wearing any Penguins gear. Not a flag, a jersey, a stick, a puck, a sliver of ice, a helmet, the lifeless body of Marian Hossa. Nothing.
Norm, if I don't have something Penguin-y by tomorrow, do not blame nor tranq me when I'm forced to either steal a real live tuxedo-wearing slippery penguin from the zoo or to just grab a Penguin from his bed (probably Petr Sykora – he's not too busy) and then stand here and wave his angry, thrashing body like a flag to passersby.
Sure some of them might be asking, "Is that guy screaming in Czech begging us for help?" but most of them would be saying, "Good ole' Monstrous Killer Death Lizard Rex. Now THERE'S a true fan."
Me. Penguins. Make it happen.
2. Hey, look. I'm famous and stuff now. Stop by and see me and maybe I'll give you an autograph if you bring me meat.
3.  Today's edition of Okay/Not Okay involves dinosaur cartoons.
Here's one that is okay: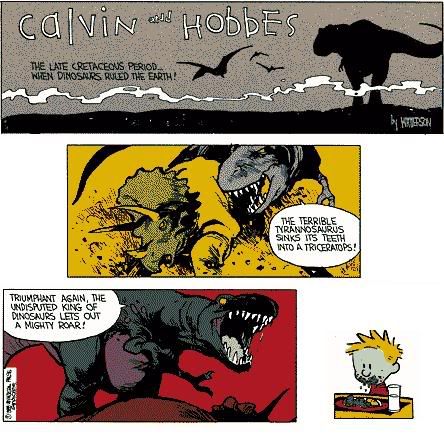 Cute kid.
And here we have NOT OKAY: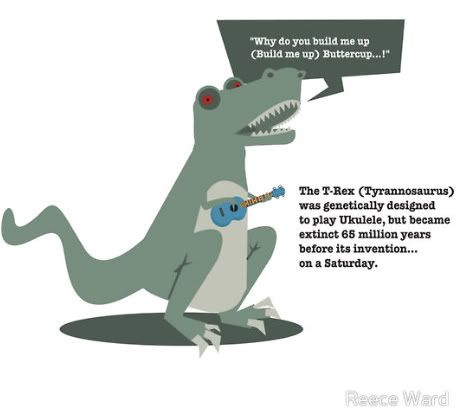 Wow.  That is so original. Oooh, look at the dinosaur, look at his tiny little arms, look at his giant gnashing teeth coming at me, look at the enveloping darkness.
Rawr.
---
No Comments
No comments yet.
Sorry, the comment form is closed at this time.