by Rex on April 24, 2009
1.  Oh, Penguins.
Grrrrr.
2. Oh, FSN and The Great Outage of 2009 During Which Pens Fans All Over Pittsburgh Came Close To Descending On FSN Headquarters While Moaning BRAINS. BRAIIIIIIINS.
Hisssssss.
3.  In comments to my post about the students being do-gooders this week, two people commented wanting to remind you students to complete your FAFSAs because you only have until next week to do it and if you don't do it, you can kiss your financial aid money goodbye.
Then I imagine it will be like that Geico commercial where everywhere you turn there will be a pile of cash with eyeballs on it and someone will say to you, "Oh, that? That's just the money you could have had if you had BOTHERED TO FILL OUT THE FAFSA!"
Do it, because I told you to. Because I care about you. Because I will bite you if you don't.
See what you did? You made me resort to violence.  I abhor violence.
What?
4.  My marathon training is really going great with me running 26 miles in an hour yesterday. I would have gotten a better time if I didn't swing by the Carnegie Museum to … uh …
Never mind.  I DIDN'T DO ANYTHING, NORM!
5. Why Calvin should be in charge of everything forever and ever.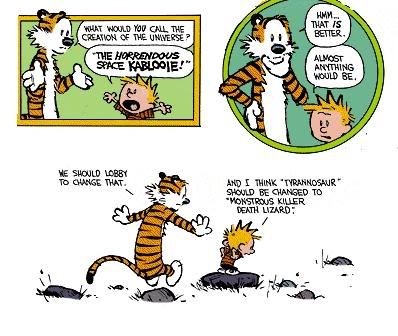 I accept.
6.  If the giant T-Rex skeleton at the Carnegie crumbles to the ground this weekend, I have no idea what you're talking about.
Rawr.
---
No Comments
No comments yet.
Sorry, the comment form is closed at this time.