by Rex on April 22, 2009
I don't know about you, but I don't recall breathing from the time the Flyers scored their goal until the time Max Talbot put one in the net during last night's Penguins game.
That was meteoric fireball intense. I would know about meteoric fireball intensity.
You might be surprised to know that I played hockey as a young lad with the cavepeople's children in a youth league called "We can't figure out the wheel, but we made an ice hockey rink!"
What?
Anyways, you seem skeptical. Luckily for you my mother emailed me some photos.
First, here's me with my team.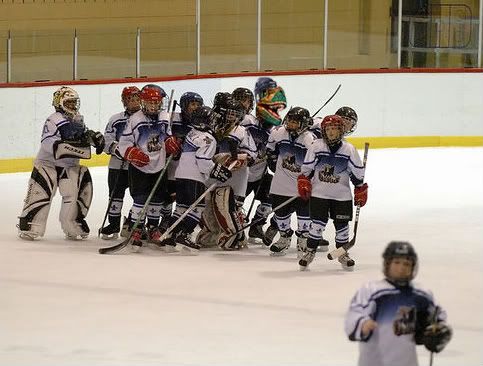 What's happening is that blurry kid skating away from me is CaveMan Blor's kid Blor (cavemen are giant stupidheads in case you can't tell) and he had just said to me, "I can't wait until you guys go extinct!"
To which I responded, "[redacted by Norm]!"
As you can see it takes about a dozen human kids to stop me from eating Blor's kid Blor.
Here's me in action doing Sidney Crosby type things 65 million years before Sidney Crosby's existence.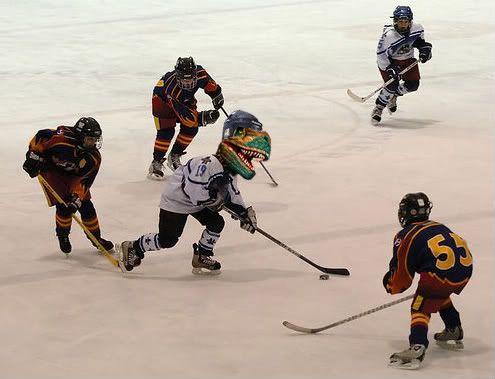 See that human kid #55 in front of me all crouching with his knees buckled together. That was the first time I realized I could make humans lose control of their bodily functions. That was a good day.
I'll see if I can find more pictures from my hockey playing days to share with you soon!
Also, I'm STILL not wearing any hockey gear and it's making me look like a bad Penguins fan. Have you seen Norm lately? Was he feverishly sewing a giant Malkin jersey while openly weeping?
Good.
Rawr.
---
No Comments
No comments yet.
Sorry, the comment form is closed at this time.