by Rex on April 16, 2009
I went to go for a run today (NOT TO CHASE AND EAT ANYTHING, NORM! Just a run. A nice jog down the street in the sunshine, you paranoid [redacted by Norm]) to keep my heart strong and healthy. You don't get to live to be 65-million-years-old by not taking care of yourself.
Ten square meals a day consisting of the five food groups (meat, meat, meat, meat and MEAT!) and a good jog, preferably after some fleeing meat, is my secret, if you're wondering.
However, when I went to look for my running shoes this morning, they were missing.
I can't imagine who would be brave enough to steal a dinosaur's shoes, because that goes against the human being's survival instinct. Therefore, I must assume that I misplaced them.
I've looked everywhere. Sally hasn't seen them and gave me a huge lecture about keeping track of my own [redacted by Norm], a lecture so intense I tried to sprout wings and fly.
I thoroughly trashed Norm's place and they're not there.
Here's a picture taken from my slide show.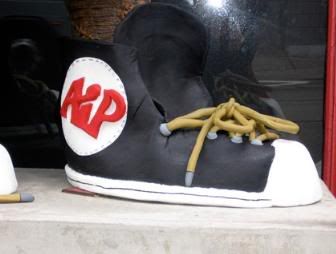 Let me know if you see them. Or if you took them … I'll give you a ten-second head start before I give chase, you succulent piece of meat.
Rawr.
---
No Comments
No comments yet.
Sorry, the comment form is closed at this time.