by Rex on March 26, 2009
First off, so sorry for not posting anything yesterday.  I thought I had a reading on the whereabouts of "Dr." Matt Lamanna so that I could, ah, never mind.
He's still alive, okay?
Lots to talk about today here in rainy, but not cold Pittsburgh:
1.  PITT!!
I don't know where you'll be tonight, but I'll be glued to the television watching Pitt demolish Xavier and that traitor Sean Miller.  Forgive me for not wearing my Pitt is It! shirt, but apparently my handler/wrangler Norm has better things to do than show his support for our local universities.  I mean, I get that this is AIP and that I represent AIP … oh, I get it.  Never mind.  Don't send me a nasty email, Norm.
2.  The local mayoral election is getting fired up now with debates between the candidates being scheduled.  I must say I find your "elections" with your "voting" and "civilized transfer of power" to be quite amusing.  Seems to me the dinosaur way is best: whoever doesn't get eaten, wins.
But since you're all civilized and stuff now, I have got to wonder, like Calvin, where do the candidates stand on dinosaur issues?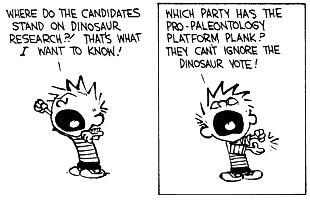 I speak on behalf of all dinosaurs when I say that we'd like bigger french fries, bigger urinals, stronger pavement, and the eradication of scary scary clowns.
3.  The Pittsburgh Penguins are winning the Stanley Cup this year.  I feel it in my bones and my bones are rarely wrong.  Like that time that asteroid was coming at us and all the other dinosaurs were looking at it saying, "Oooooh.  Pretty."  but I had a bad feeling and I went and hid in the mountain cave.  Thank you, bones.
If they do win, I better be outfitted in some serious hockey gear for the parade, do you hear me, Norm?  I want a helmet and a giant stick and a Malkin jersey in XXXXXXXXXL and a puck bunny on my arm.  Don't tell Sally.
4.  Here's a quote from an article I found this morning while reading my Post-Gazette (also, mayoral candidates, we dinosaurs would like larger newspapers):
Tyrannosaurus rex, a meat eater and the most famous of the dinosaurs (emphasis mine because it makes me feel good), was about 35 feet long. Figures for the longest and tallest are expected to change with ongoing finds in the Southern Hemisphere.
Yeah, if they ever find my friend Andrew C. they are going to be astounded.  Andy could crush fifty hadrosaurs with one foot.  Also, have you ever had a hadrosaur pancake in your life?  Delicious.
I miss Andy's "cooking."
5.  Finally, Norm wanted me to mention this event coming up here at AIP on Saturday:  Sketchy Jr.
This is a chance for students in grades 8-12 to draw to a live DJ and win prizes and stuff.  Norm tells me that models dressed as video game divas will be here.
He said something else, too, but I stopped listening after "models dressed as video game divas."
Rawr.
---
No Comments
No comments yet.
Sorry, the comment form is closed at this time.