by Rex on March 17, 2009
I'm going to get to my St. Patrick's Day Parade recap today.  Promise.  It's going to be awesome.  Elmo is involved.
In the meantime …
I have a kind heart — a heart as big as a large dog, mind you — and that kind heart has a soft spot for human children.
They're so cute and honest and lovable and yummy.  Relax.  I'm not going to eat your children.  I can eat 500 pounds of meat in one bite.  Do you really think I want your M 'n M-sized runt?  Also, they're slow.  There's no challenge in the chase.
As I was saying, they're cute and honest and lovable.  Look at these adorable letters to God some kids wrote.
Here's my favorite.
I agree!  Dennis smells.  Send him somewhere else.  Cute kids.
But then I saw this one: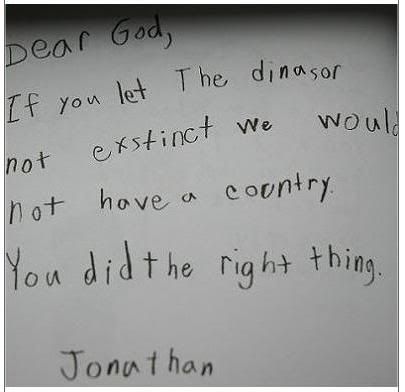 I don't know who this "Jonathan" person is but first of all his spelling is atrocious.  Dinasor? Is George Bush teaching your children how to spell?  And if extinct was even a word, I'm pretty sure it wouldn't be spelled like that.  Second of all, I've read letters from boll weevils with better grammar than that.  And third of all, Jonathan is a stupidhead and I bet he smells.
Rawr.
---
1 Comment

Sorry, the comment form is closed at this time.