by Rex on March 13, 2009
Zeus's lightning bolts, readers!
I woke up this morning and, well … bagpipes?  REALLY?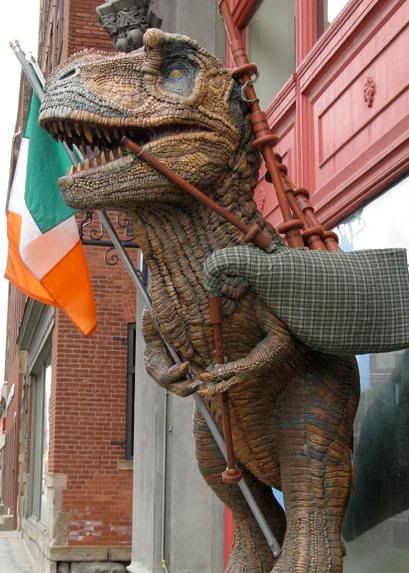 At first I assumed the students were playing a joke on me because this is Friday the 13th and if you read on down, you'll see what Friday the 13th means to a dinosaur.
But this is not a joke.  This is a school-approved Saint Patrick's Day costume.
I have some things I'd like to say about this:
1.  Who is in charge of costuming me?  I'd like a name; I'd like a location and I'd like to show that person my teeth.
2.  Does my colossal mouth filled with those aforementioned sharp teeth look like it has any chance at all of puckering around that tiny bagpipe mouth piece?  I don't think so.  Next year, just give me some shiny beads to throw to the ladies.
3.  I'm pretty sure the bagpipes are supposed to go UNDER my arm.  First person to make a "ha-ha.  T-rexes have tiny little useless arms" joke is also going to get up close and personal with my sharp teeth.
4.  It was 20 degrees last night.  You think I could have had a scarf or something?  I'm hoarse this morning and my rawr sounds like a little kitten purring at a piece of lint.  Not very useful when I need to let the students know I don't appreciate being leaned on.  I need a thunder-filled RAWR for that if I want to make them pee their pants.  That's just funny.
5. I can't be sure, but I think I'm really holding a faded Italian flag.
6.  The city's St. Patrick's Day Parade is coming right past me tomorrow so I'll have the best seat on the street.  My flickr stream is going to be off the hook.  A note:  If you climb up on me to get a better view of the parade, I cannot be held responsible for the injuries you suffer when my dinosaur instincts kick in and whisper to me that you smell just like a juicy hadrosaur. You've been warned.
Rawr.
---
6 Comments

Sorry, the comment form is closed at this time.